AINGER + HARTMANN ACCESS CONTROL SYSTEMS
Trusted Commercial Security
Solutions from Hartman
When it comes to access control systems for small to enterprise systems, you'd be hard pressed to find one better than Hartmann. A Canadian designer and manufacturer of leading edge access control hardware, software and total solutions, Hartmann has been helping Canadian businesses maintain and strengthen security for over two decades. Ainger Cabling + Security is an authorized distributor of Hartmann access control systems. One of their best-selling items that we offer is the Hartmann door access control system, an IP access control system that integrates with IP camera systems, allows for better local level administration, is highly customizable and offers superior access control management software. We sell and install Hartmann access control systems across Canada, from Vancouver to Halifax, Regina to Montreal and many points in between. No matter your needs, from a small business looking for main door access control to an enterprise system with complex layers, we're confident that Hartmann access control systems will serve your needs well.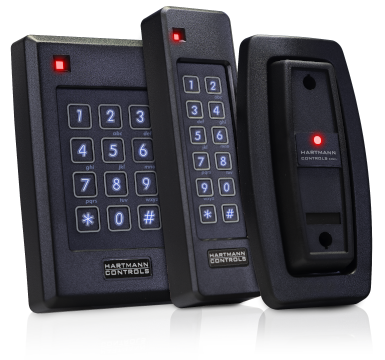 ACCESS CONTROL FROM HARTMANN
Proudly Canadian, Competitive, & Customizable
Access Solutions
Credentials
Readers
All Hartmann products are UL listed which means you know that your security has been tested to the highest standard.
CONTACT US
Get in Touch with Ainger Cabling + Security